3 Things To Look For In A Professional Storm Damage Service
5/31/2022 (Permalink)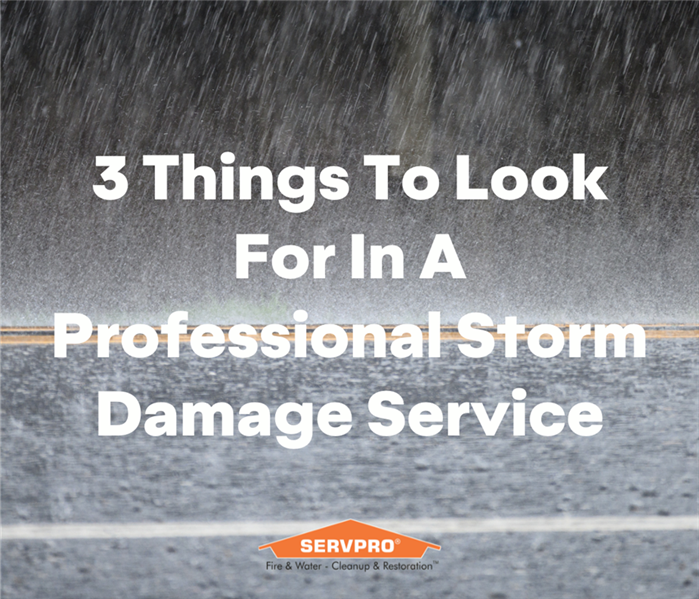 We have the experience and the equipment needed to cleanup and restore your home and help get life back to normal following storm damage.
3 Things To Look For In A Professional Storm Damage Service
If severe weather, such as a storm, tornado, or hurricane, causes damage to your property, you should first make arrangements for a trained storm damage expert to inspect the damage. But what are things to look for in a professional storm damage service?
What Are Things To Look For?
Watch out for positive reviews.
If you want to know how valuable a storm damage restoration expert will be, you should look at other people's prior experiences with them, just as with anything else. Do not employ someone with poor online evaluations. In contrast, don't allow a few unfavorable reviews to keep you from hiring someone who has had an overall positive experience with most clients. Sometimes, a customer's perception of the restoration expert's integrity and expertise is more important than how the insurer processed the claim.
Affordable Prices
Given that you will be paying for someone's services, it is reasonable to assume that you would be seeking a storm restoration expert who can provide their services at an affordable cost. Even though you will be responsible for the expense of hiring a restoration expert, your insurance company may reimburse you.
Look Out For Ones That Work With Insurance
Professional storm damage experts that deal with insurance companies may help you submit claims more swiftly and efficiently. Depending on how many other people were influenced by the storm, it may take some time to get in touch with your insurance company, so having a professional on your side can be beneficial.
Are you searching for a trusted storm restoration expert near you? Trust the SERVPRO of San Leandro team to restore your home or business to its existing shape. Give us a call at (510) 352-2480.