What Is the Best Approach to Storm Damage Restoration?
5/11/2022 (Permalink)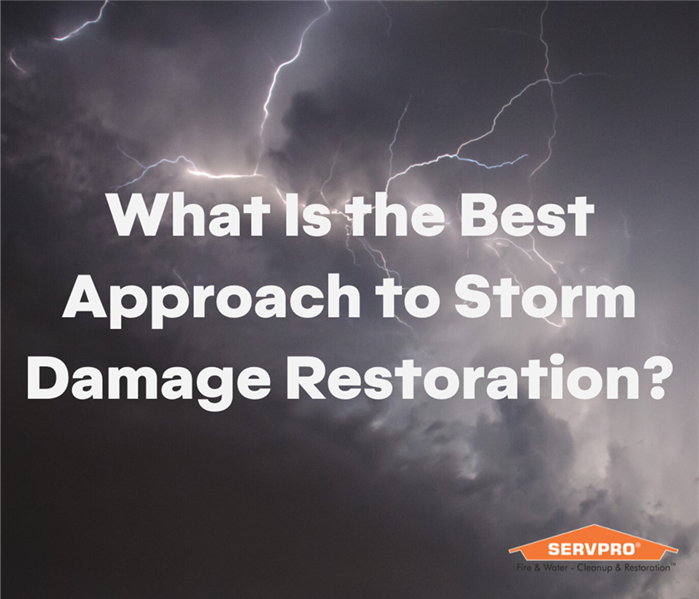 Whether you have minor storm damage or something larger to deal with, we have the experience and the equipment needed to cleanup and restore your home
What Is the Best Approach to Storm Damage Restoration?
Immediately after a large storm, you must take action to limit the damage to your property. Luckily, you may be left with minor damages from the storms, which must be dealt promptly to protect your safety and valuables. Initially, assessing the damage might be intimidating, but you can be proactive in handling your storm cleaning by following these steps.
Priority should be given to health and safety issues.
Always put off the electricity when managing water damage from a storm. Stormwater may have penetrated your walls and electrical wires, which can lead to fire incidents. Also, switch off the water supply to your home, and avoid the sewage system if the pipes look clogged.
Take Pictures of the Storm Damage.
Please take pictures of the damage to your home as soon as it is safe. This will help provide documentation for your insurance provider. Follow your insurance policy to guarantee that you speak with the right specialists for any mandatory inspections. Ensure to conduct an inventory of both the inside and outside of the property.
Fix the roof.
The roofs of buildings take the brunt of storm damage. When the roof is gone, water damage soon accumulates. To ensure that the remainder of your home is safe from future storms, get your roof examined and fixed as quickly as possible when the cleanup is complete.
Consult Professionals About Water Damage Restoration
Professional flood cleanup is required to ensure that every square inch of a flooded home is completely dry. While you can help remove damaged items, it's better to leave the rest in the hands of a professional.
Contact SERVPRO of San Leandro immediately if you need storm damage restoration services today at (510) 352-2480.