Commercial Fire Damage Restoration Process
6/2/2022 (Permalink)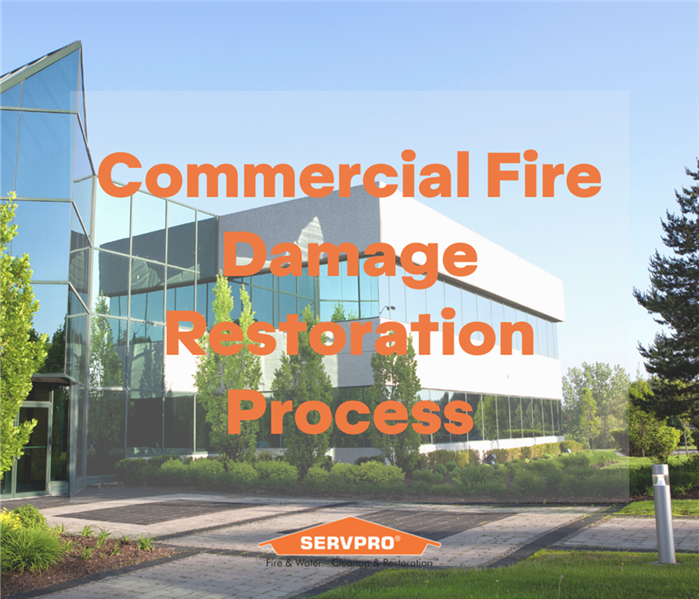 SERVPRO® helps commercial customers with a wide variety of cleaning, construction and restoration projects, both large and small.
Commercial Fire Damage Restoration Process
You will require a commercial restoration service if a fire has damaged your commercial property. And to begin with this, restoration efforts must get underway as quickly as possible to prevent company disruption and further recovery costs. But what are the commercial fire damage restoration procedure when a fire occurs?
Hire a commercial restoration service near you
Your first concern should be preventing more damage to your commercial building. So, set up an appointment with the most recognized business repair company in your area for an inspection to evaluate the damage.
Remove standing water from the structure.
When the firefighting efforts are complete, the most critical step is to evacuate as much water as possible. If you want to make sure there are no leaks or spots that might produce mold, you need to employ a business restoration firm.
Cleaning up the work area of smoke and soot
The restoration company's next step is to use specialized equipment and processes to remove smoke and soot from the building's surfaces. This is because subsurface stains and odors are common when dealing with fire and smoke damage.
Disposal of Unwanted Items and Organization
All damaged products and structures will be removed from the space. After that, the whole commercial space is reorganized back to its original state
Restorative Services
Lastly, you may have to repaint, restore drywall, and install new carpet to get your commercial space back to how it was before the fire. Even if you must rebuild a large portion of your property, professional contractors will know how to maximize your return on investment.
You can rely on SERVPRO of San Leandro for Commercial Restoration. We will take care of the whole commercial facility restoration process. Contact us right now for a free consultation at (510) 352-2480.