We Are The Leader In Water Removal Services In Oakland
9/26/2019 (Permalink)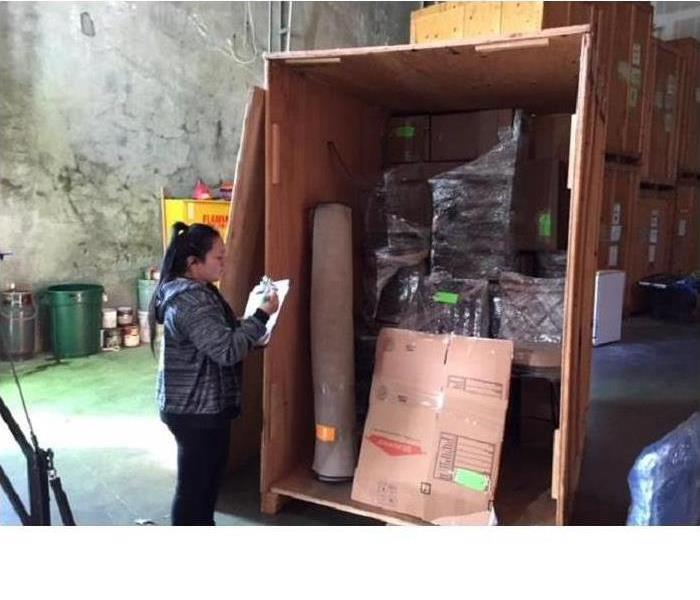 Sometimes the restoration process requires removing personal property from the premises. Our team can provide these services right away,
Water Removal in Oakland Properties Cannot Occur Without This
When any type of water damage happens in a property, whether it is from a leaking pipe, damaged roof or toilet overflow, all of these situations result in the need for the fast extraction of water.
In Oakland homes, water removal needs come in many forms. The key to limiting loss is how quickly the cleanup begins and whether or not the extraction used professional-grade equipment.
Why SERVPRO?
Each location has a diverse array of equipment for water removal. Avoiding costly secondary issues such as mold or weakening of building materials makes complete water extraction necessary. For example, they have specialized weighted attachments for pushing water out of carpeting to assist in the restoration and save the property owner the cost of replacement.
Specific Equipment for Drying
After the water removal phase of cleanup, drying the property begins. When necessary, the removal of damaged sheetrock or flooring occurs to allow for greater airflow during drying. The technicians use a diverse selection of drying attachments for unique drying situations such as forcing air within a wall cavity or into floor joists using drying mats or an Injecti-Dry setup.
Water Odor Elimination
The signature musty odor left behind by water is instantly recognizable and unpleasant. The technicians have different devices for the removal of foul odors. Often cleaning and disinfecting a property reduces odors, but there may be residual reminders of the water damage left. In that case, the technicians may choose to use a method such as a hydroxyl generator for the safe removal of airborne particles causing foul scents. Another commonly used application for odor control is thermal fogging, and it is particularly useful for eliminating odors in fabrics and carpeting that have been pretested to ensure colorfastness.
Prepping for Rebuilding
Needing repairs after water damage mitigation is not an uncommon occurrence. SERVPRO carries a general contractor license #937457 and can offer property owners the seamless service of any required reconstruction or repairs to restore the home to its pre-water damage condition.
When you need fast, efficient water removal contact SERVPRO of San Leandro at (510) 352-2480. Our technicians stand ready 24/7 to assist local property owners in the mitigation of water loss and make it "Like it never even happened."
See more about Oakland.