There is Water in My San Leandro Retail Store, Who Do I Turn to for Help?
4/30/2020 (Permalink)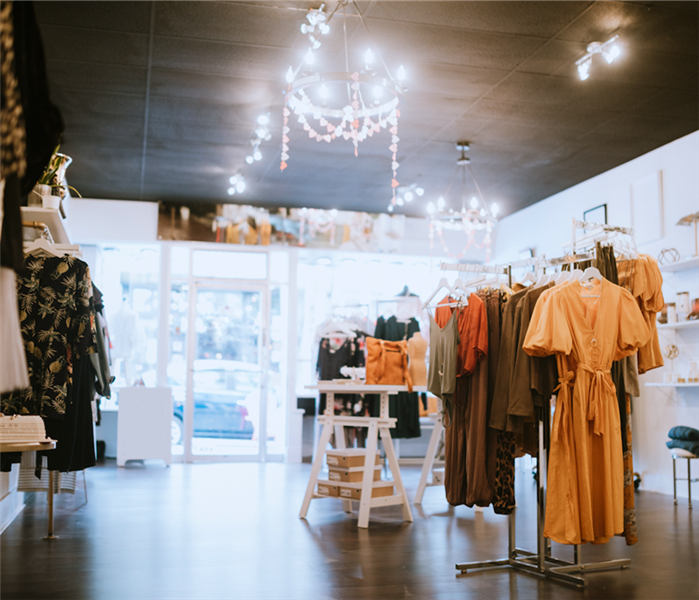 Facing water damage doesn't have to stop your business. Contact team SERVPRO for effective water removal and remediation services.
Contact a Company that Performs Commercial Water Removal in San Leandro
Water loss in a retail store can happen because of several reasons, such as overflowing sinks, burst pipes, and a leaking roof. Your retail store can suffer immediate losses in terms of destruction to electronic equipment, merchandise, and fixtures. The water can also seep up walls into insulation and other structural materials.
How Can I Prevent Further Losses?
Water damage can cause you to incur longer-term losses such as lost business because of the time your store remains shut for cleanup and restoration. To prevent additional losses, you need to start the process of commercial water removal in your San Leandro retail store as soon as possible. At SERVPRO, we understand business operations, and we have served different commercial clients for many years. We know our way around retail stores and other business premises. Some benefits of working with us include:
Round the clock availability.
Courteous and helpful water damage restoration technicians (WRTs).
Advanced water removal equipment to handle water extraction projects of any size.
Complete water removal and drying services.
Thorough cleaning and decontamination using EPA-approved products.
Working with your insurance company.
How Do You Conduct the Water Removal Process?
Our technicians conduct an assessment to know which steps to take to remove the water and dry a property quickly. During the process, our technicians do the following:
Look out for safety hazards like falling stock, uneven flooring, and ruined electrical wiring.
Determine what caused the water loss and take steps to prevent further leaking.
Determine the most appropriate and effective strategy for cleaning up your property.
After a water loss incident in a retail store, it is imperative to clean it up properly, so it does not turn into a breeding ground for bacteria, mold, and other harmful microorganisms. Our SERVPRO team can extract the water efficiently using electric submersible pumps, which offer continuous and quiet operation.
We can also inventory the salvageable items, equipment, and fixtures and move them to our facilities for proper drying and restoration. Our team can also get rid of debris and unsalvageable items, including furnishings and structural items.
We can then place structural drying equipment like air movers and desiccant dehumidifiers throughout your store to dry the affected areas thoroughly. Air movers expedite the drying of surfaces like flooring and enhance air circulation of the whole indoor space. Desiccant dehumidifiers use chemicals called desiccants, which absorb moisture from the air dehumidifiers process readily.
When a water loss problem occurs in your retail store, you can trust SERVPRO of San Leandro to remove the water and dry the business premises. Contact us any time at (510) 352-2480.
Click here for more information about San Leandro.