We Have The Proper Techniques To Restore Your Oakland Home After A Water Damage Disaster
3/4/2020 (Permalink)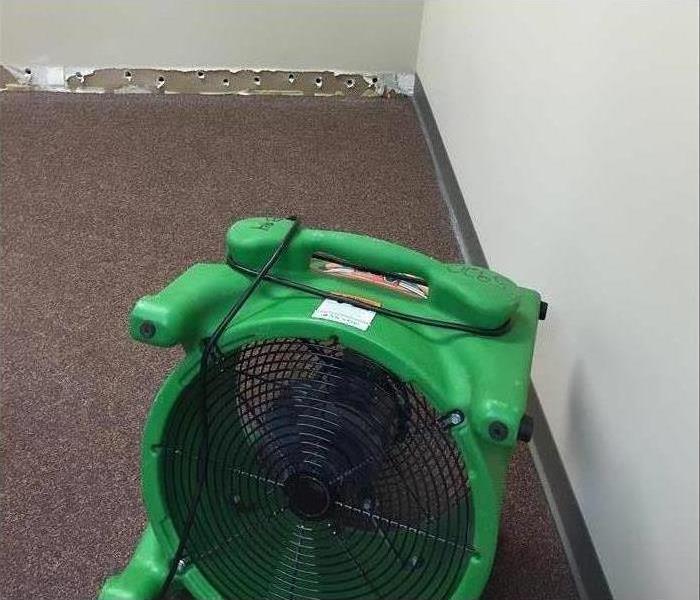 We have state of the art equipment like this air mover to restore your home after a water loss. We are available 24/7, so call us right away.
Measuring Hidden Water Damage in Your Oakland Home
After a water spill anywhere in your home, there is often a hefty amount of cleanup before your life can resume its regular routine. A bathroom may have a leaky pipe with clean water that seeps onto the tile floor, and into the wooden baseboards or even out into your hardwood flooring. After sopping up the mess with old towels and mopping up the excess you may find moisture lurking in unexpected places.
If you are dealing with water damage in your Oakland home, it is crucial to understand moisture levels and where excess water may be hiding. SERVPRO water restoration technicians use moisture meters to check the actual moisture content within materials to determine the best approach to dry them. During the entire drying process, moisture meters test the progress of the drying to restore the impacted items to their original moisture levels.
Technicians may use an infrared camera to locate hidden moisture by detecting differences in temperature. However, the infrared camera does not provide leveled readings of exactly how much moisture is within the material. The meters calibrate for specific materials. If it calibrates for drywall, when it reads the moisture content in wood materials, it is incorrect.
Some meters may adjust to suit the type of material. The average meter has a wood scale that goes from 5% to 30% of moisture. Moisture meters typically do not read a percentage for non-wood materials but have a relative scale that ranges from 0 to 100 or 0 to 1,000 depending on the meter. This scale serves when you measure drying progress. Wood readings are done in percentages while non-wood materials use points.
When SERVPRO technicians take moisture readings, they measure non-impacted materials in the home as a control to determine a drying goal. The same technician also takes the readings to narrow the margin of error, making sure to read it the same way each time.
Appropriate readings help technicians understand the best way to extract water damage and position air movers and dehumidifiers. In addition to measuring materials, technicians use thermo-hygrometers to determine relative humidity within a room.
If you suspect hidden moisture remaining after a water mishap, contact SERVPRO of San Leandro (General Contractor License: 937457) at (510) 352-2480 for assistance.