How Can I Identify Mold Damage in My San Leandro Home and Remediate It?
2/15/2021 (Permalink)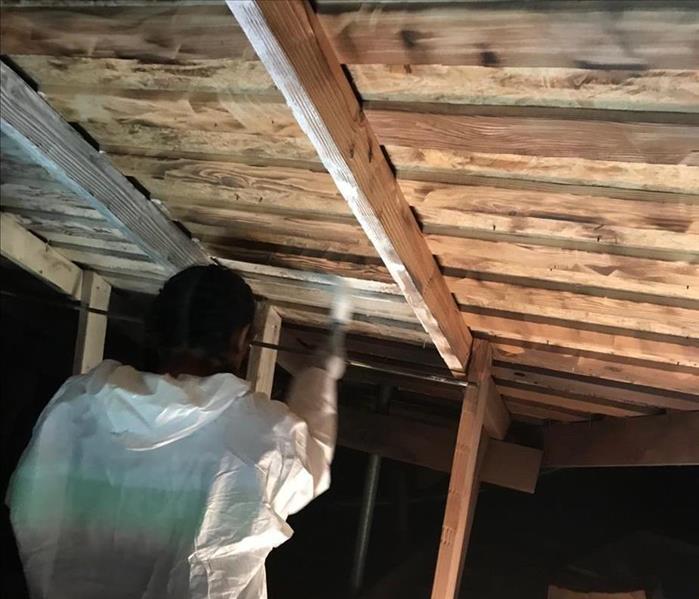 Eradicating mold is no DIY project.Call the professionals at SERVPRO for the mold remediation services needed for your home.
Mold Damage is Best Identified and Remediated by Trained Professionals.
While they may initially seem insignificant, mold growths have the potential of causing substantial damage to your home and greatly impacting its livability.
In order to preserve your home's fitness as a residence, aesthetics, and value, San Leandro mold removal companies like SERVPRO believe it is crucial to catch potential water damage and related mold issues early. Although professionals, equipped with moisture sensors/meters and infrared cameras, are most capable of doing this, homeowners can identify problems by looking for the following telltale signs:
Discolorations, often black, brown, green, or pink, on ceilings, walls, baseboards, and floors
Cracking and peeling of wall paper or paint
Deterioration of plaster and drywall
Warping of structural elements
Unpleasant musty odors
Once located, our trained technicians can often relatively quickly mitigate and restore mold-related damage by:
Expertly fixing water leaks
Removing standing water with wet vacs and water extractors
Using air movers, dehumidifiers, and Injectidry systems to dry impacted structural elements and household contents
Eliminating mold growths with EPA-approved antifungals
Neutralizing foul mold odors with advanced foggers
So, if you ever need help eradicating mold, call SERVPRO of San Leandro at (510) 352-2480 for assistance.