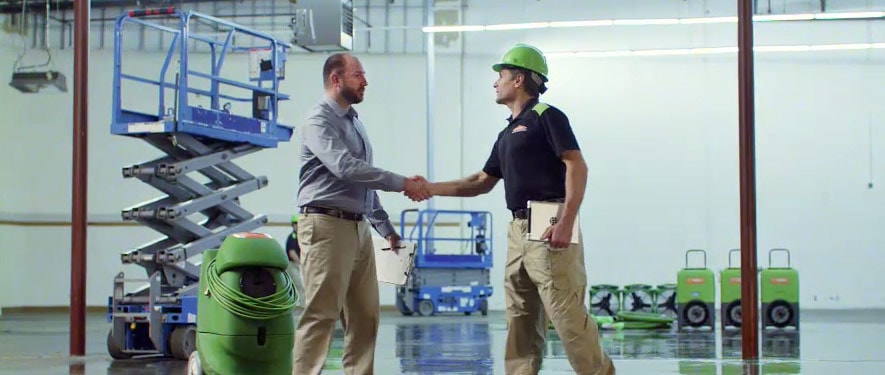 Commercial Services
Roy Drake, owner, and operator of SERVPRO of San Leandro began working in this industry working solely with Large commercial properties. That experience has helped him to shape this company into one of the leading providers of commercial property restoration. We have worked on Government and California State buildings as well as multi-unit residencies and commercial builders.
The experience we have in commercial property restoration is invaluable to property managers. We understand the complexity of working across multiple insurance companies on a single loss for Homeowner Associations. Our membership with the San Leandro Chamber of Commerce is invaluable, and we run a series of "Lunch and Learn" events for chamber members and property managers. Equipment-wise we are always investing to provide the best service we can and are proud owners of an equipment trailer to aid us on Large Loss jobs.
SERVPRO of San Leandro is here to help businesses of all shapes and sizes. Contact us today to find out how we could help yours.
Se Habla Español
Small Office Buildings
Large Office/High-Rise Office Buildings
Apartment Buildings
Restaurants
Hotel/Motels
Small Retail Stores
Large Retail/Big-Box Stores
High-Rise Residential
Manufacturing & Industrial
Government/Military
Have Questions? Call Today – (510) 352-2480
Commercial Building Restoration Services
When it comes to commercial and residential restoration services, SERVPRO is a leader in the industry. Available 24 hours a day and seven days a week, SERVPRO of San Leandro responds quickly to your San Leandro business's fire, water, and mold damage emergencies. No commercial project is too big, because we have access to the resources of a nationwide network of 2180 Franchises. Learn more about our commercial restoration services:
Commercial Building Cleaning Services
Whether your need is removing an odor problem or deep-cleaning flooring or carpets, you can depend on SERVPRO of San Leandro to get the job done right the first time. We'll respond promptly and make your workspace look its very best. Learn more about our commercial cleaning services: